Island Raven, a Garden designed motoryacht
Island Raven was launched in 1979, the last plank-on-frame hull built by Bent Jespersen before their exclusive adoption of cold-molding. Her length is 36'7″, LWL is 34'3″, beam is variously reported as 12'0″, 12'6″, and 13'3″, and draft around 4'3″. The framing elevation is interesting for the great depth of wood aft of the stem face in her forefoot. The backbone is all sided 5.5″ and her entry is so fine that the rabbet ends up a long way back.
Power is a five-cylinder Gardner of 94 HP turning a 30″ by 18″ three-bladed prop through 2:1 reduction. Framing is bent oak, 1.75″ by 2.5″ on 10″ centers, with 1.75″ yellow cedar floors. The keel is 5.5″ by 7.5″, the keelson 5.5″ by 9.5″ lays on it's side and is pocketed to receive the frame heels.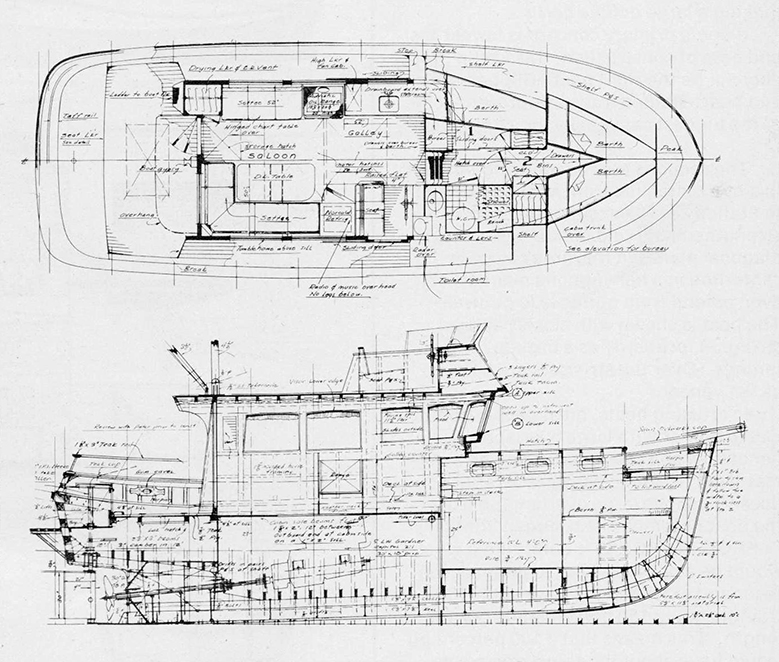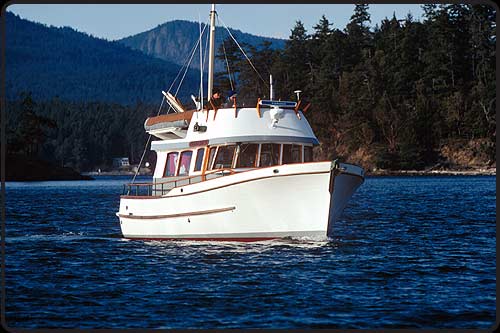 The gumwood sheathing on the drawing does not appear on the finished product, as well it appears the radius tops on the windshield windows turned out to be more trouble than it was worth.
External Links

Sorry, no links have been posted