Small Cruising Ketches
In the first of these articles on traditional small cruising boats we'll look at the Sea Spirit, a 31′ ketch designed by Hugh Angleman and Victor Ward. These drawings were published in Sea and Pacific Motor Boat of May, 1962. The Sea Spirit is very much a smaller version of Angleman's famous earlier design, the 36′ Sea Witch of 1935. Sea Witch
The Sea Spirit was built in production batches in Japan, mostly of Apitong, which looks like mahogany. The boats are remarkable for the roomy accommodation in such a short boat, facilitated by her great beam. Also with her large open afterdeck and wide side decks she appears a real little ship.
They were also characterized by massive construction for such little boats, frames are white oak spaced 12", planking 1 1/16" Mahogany copper riveted to the frames, deck beams of Apitong 1 5/8" by 2 1/4" with decking of two layers of 3/8" ply overlaid with 5/8" teak in the cockpit.
The beam is obvious in her arrangement plan.....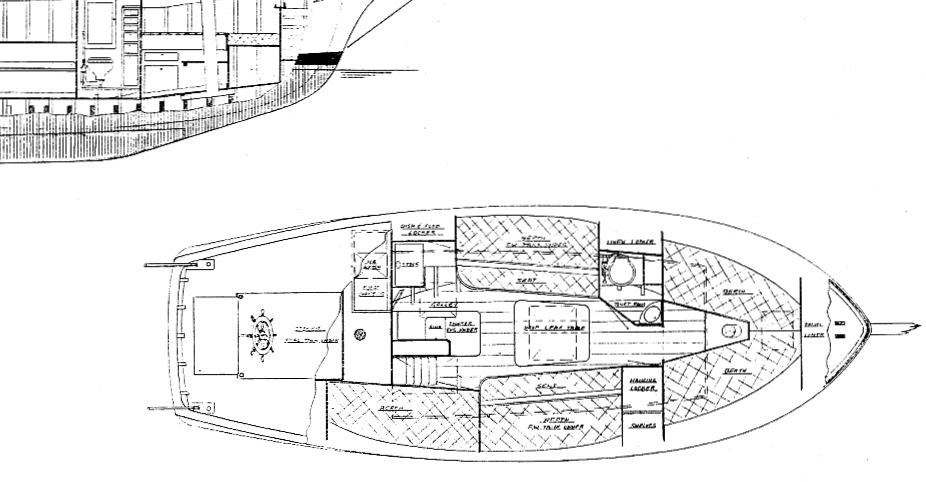 Specifications

LOA 30'11"
Beam 11'3"
Displacement not sure, 4000 lbs ballast
Draft 4'5"
Sailarea 482 sq ft