SOLD FOR PEANUTS
The auction of our YAG's is now complete. The six ships brought a total of $26,537.80, an average sale price of $4422.56, which is peanuts for a 75′ heritage vessel, with twin engines, electronics, and all systems.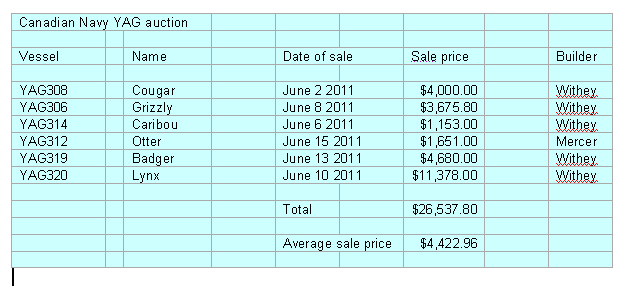 It's not that I think they should have sold at higher prices, after all these are 55 year old wooden boats which have been neglected for the past few years. And I believe Canadians did very well on this investment. At a original contract price of approximately $90,000.00 (not including engines and electronics) and a service life of 50 years, they were very good value. I don't think their high-cost, high-speed, aluminum replacements will last nearly as long, and initial and operating costs are far higher.
What upsets me right now is that two weeks after the sale I'm seeing equipment and the boats themselves advertized in places like ebay for 10 times the government auction price. I just saw one of the Sperry gyro compass's on Cragslist asking $4500, twice the amount paid for the entire vessel. And Today someone alerted me to YAG306 on Ebay at $35,000.00, ten times the amount paid at auction. That our history is reduced to a commodity to be traded for dollars, with no consideration or care for the real value, and no interest in the preservation of our history, is sad and frustrating. So these noble ships, that have played a major role in the lives of hundreds of Canadian sailors, will be parted out and eventually sunken hulks because no one cares to be bothered caring for them or finding new business for them to undertake.
External Links

Sorry, no links have been posted