The Hinckley Sou'wester 70 story
This is the story…..Anything I say about the H70 will be from memory as I recall it, others probably see things differently.
I think the H70 project started in about 1990. At the time Hinckley engineering consisted of 3 people, Peter Smith, Steve Weiss, and Chris Van Heerdon. This was pre Picnic Boat; Hinckley was building semi-custom McCurdy and Rhodes sailboats and a few of the Spencer Lincoln Talaria 39's. The engineering office was up under the eaves in an old house in the Hinckley yard. They had just bought a new Sun Cad system and I wanted to see it. I knew Chris from attending YDI (Yacht Design Institute, Castine ME) together and so I got the yard tour and met Peter Smith, head of engineering. We talked about the new Hinckley big boat project; they had early submissions from a California office (R/P?), S&S in New York, and maybe Bill Cook. The engineering department was not thrilled with these. I said let us (At the time BKYD was just Bruce and I) submit a proposal.
It came to light that the owners of Hinckley had never heard of Bruce King Yacht Design. So a meeting was arranged. Owners Shep McKinney and Bob Hinckley, plus production manager Tie Hack and I think Peter Smith, all visited the BKYD office, Bruce's living room in East Boothbay. (The third owner at the time was Haywood May, but I don't recall if he was at that initial meeting.) From that meeting I drew the 70′ preliminary and also a 40'ish daysailer (which was to be taken up many years later as Hinckley's latest sailboat).
The arrangement and sail plan were done quickly and presented by Bruce and I at South West Harbour. The Hinckley guys got excited right away; to our amazement they liked it. I recall looking at Stormvogle and Ron Holland's Belliure (Spain) for inspiration. I think the galley came straight from the new Frer's Swan 65. Later I would do about 5 different arrangements including a pilothouse ketch that I drew at home one weekend while Bruce was in Europe.
My first preliminary lines of the 70 were very traditional with elliptical transom and deadrise throughout her sections. She had a stub ballast keel with big radiused fillets intended for the centerboard that was almost standard Hinckley at the time. I think Bruce built a full model of this hull. Then there was a meeting at Hinckley that included John Marshall (North Sails) who called this old fashioned shape into question and asked about VPPs. He wanted to see a performance oriented hull form. So the lines were re-worked using the Ericson 38 sections (based on Bruce's most successful tank tests) which are tangent at centerline. These sections have produced boats that are well balanced and fast at all reasonable heel angles. The tangent bottom meant any keel could be easily integrated; eventually there were maybe 5 keel variations. The transom was altered to ease production and the tumblehome aft disappeared. These changes also allowed freeboard (interior volume) to be altered as required. This hull was eventually run in the tank at Webb, mostly as a final check and PR opportunity. I still think those original lines are some of the nicest I've drawn.
About this time Bruce hired Chris Franklin as we had two 100′ waterline ketches to do: Alejandra and Hetairos. Chris took over engineering and drawing the construction details for the SW 70 while I concentrated on the bigger boats. Soon we needed another set of hands. The SW70 design was complete and tooling (hull plug) was under way but no customers appeared. So we (Hinckley and BKYD) started on the Picnic Boat project. That's another story.
Eventually a customer for Sou'wester 7001 came along, he was an art gallery owner from New York City and she would be called Avatar. He and his wife had very elaborate requirements for the interior, which was designed by Bruce and drawn by Chris. I thought it was horrible. Typical of Bruce it's very formal with fluted columns everywhere, including the steering binnacle. There were specific requirements for spaces to display various fabulously valuable pieces of art, such as a Picasso plate. My original interior layout included a fireplace on centerline forward of the engine box (facing the main saloon). This was eliminated in favor of a mirrored glass rack/bar…again a disappointment for me to lose the focal point of the entire interior.
I only sailed Avatar once, out of South West Harbour, mostly I remember it poured rain and was freezing cold. We broke something but I don't remember what it was, or maybe something just wouldn't work. I suppose it was early spring 1995. I remember being impressed at how noisy the lightweight cored interior was with the engine running. Over the years noise and vibration reduction was to become a personal crusade.
The boat did have some teething problems, the batteries under the owner's berth(early AGM system) blew up (while being overcharged)in Southwest Harbour. Luckily no one was around…….And the owner or a friend cranked the mainsail into the mast furling cavity, destroying the carbon spar (rondal?). This was the result of the powered winches being forward under the dodger where you could not see the sail. (Still may be the case.)
The image above is by David Barker, as I originally envisaged her (note the twin cockpits).
Below is Avatar racing in Antigua. She's leading a Joel White W-Class and the Hoek designed Copihue. This picture made me smile for a moment.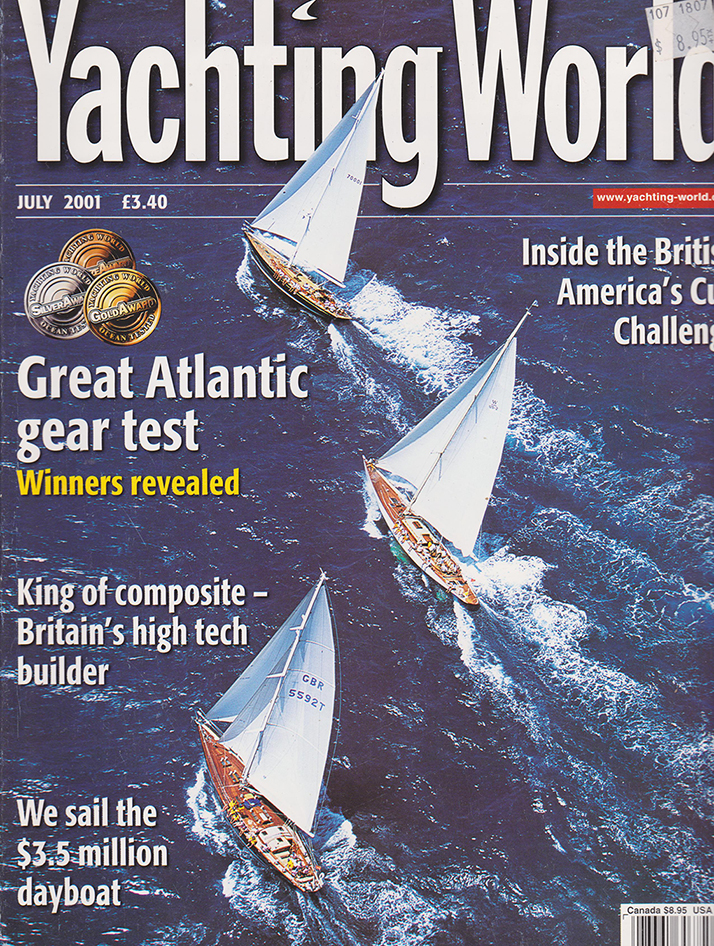 External Links

Sorry, no links have been posted