Dragoon, an Ocean Racing Ketch
Dragoon, an Ocean Racing Ketch
Launched 1925
Built by H.W. Embree & Son in Port Hawkesbury, Nova Scotia
Designed by Ford, Payne, and Sweisguth
Built for Robert Bavier of City Island NY
Contract price (firm) $6,795
LOA 66'6"
LWL 55'0"
Beam 14'6"
Extras (owner's additions)
Ratsey sails $1270
Engine installed $1000
Hollow spars $1000
Capstan $160
Delivery from NS to NY $400
Tender (clinker) $75
Furnishings $1000
Grand total $12,847
What grabs me about Dragoon is her powerful yet very graceful look. Her ends are short, with a just right canoe stern, large deckhouse, and tall ketch rig. I still remember the very good large picture of her in an early Pacific Yachting. Tied to the dock you just knew that ship could take you anywhere in the world starting now……I wish I had a better picture to add here.
She was first to finish in the 1926 Bermuda Race, out of 16 starters. After a number of years she came west to the ownership of Henry B. Grandin of San Francisco. She raced to Hawaii several times and I think there's a model of her at the Alameda Yacht Club. Then she came north to Vancouver in the ownership of a Canadian Naval Captain Holmes. Apparently Holmes had a bit of trouble in the Swiftsure Race of 1955 when he rammed the lightship while rounding in light air. In 1969 she was still sailing out of Vancouver but after that I don't know what happened to her.
I also know very little about the partnership of Ford, Payne, and Sweisguth. Francis Sweisguth (1882-1970) is the only one I know a little about. He was draftsman for William Gardner in 1910 when he was given the job to design what was to become the Star class. And he was later responsible for the design of Kelpie, a well known West Coast racing schooner launched in about 1929. The Encyclopedia Of Yacht Design calls him a "superb draftsman and master of aesthetics." I think he showed us that with the Dragoon design, a beautifully balanced and powerful looking racer/cruiser well ahead of her time.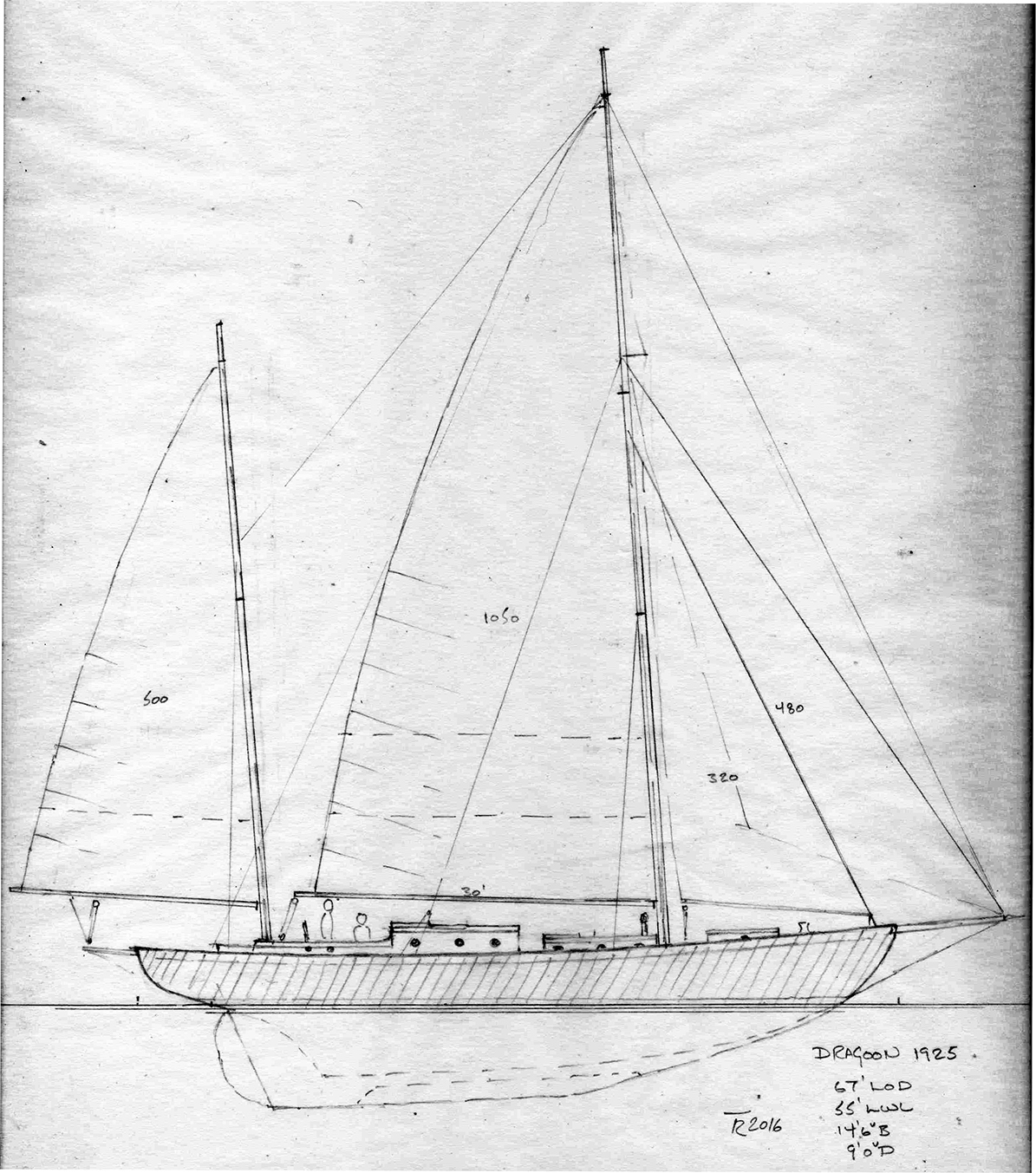 External Links

Sorry, no links have been posted