Ocean Racing Ketches
A recent question about the rig proportions of an older ketch caused me to do some comparison of several boats. Let's look at two ocean racing designs separated by 50 years. Above is L. Francis Herreshoff's design #47, created in 1930 for Dudley Wolfe who instead built the Frank Paine designed 72′ cutter Highland Light. While the "Light" was and is a great boat, I don't think there's much doubt this design could have achieved equal fame. As far as I know this design was never built.
LFH Design #47 Particulars
LOD = 64'0″
LWL = 50'0″
Beam = 15'0″
Draft = 9'0″
Working Sail Area = 2448 sq ft.
Main sail = 1032 sq ft.
Mizzen = 540 sq ft.
Stay'sl = 414 sq ft.
Jib = 462 sq ft.
The Arrangement and Hull Lines drawing for #47 are below.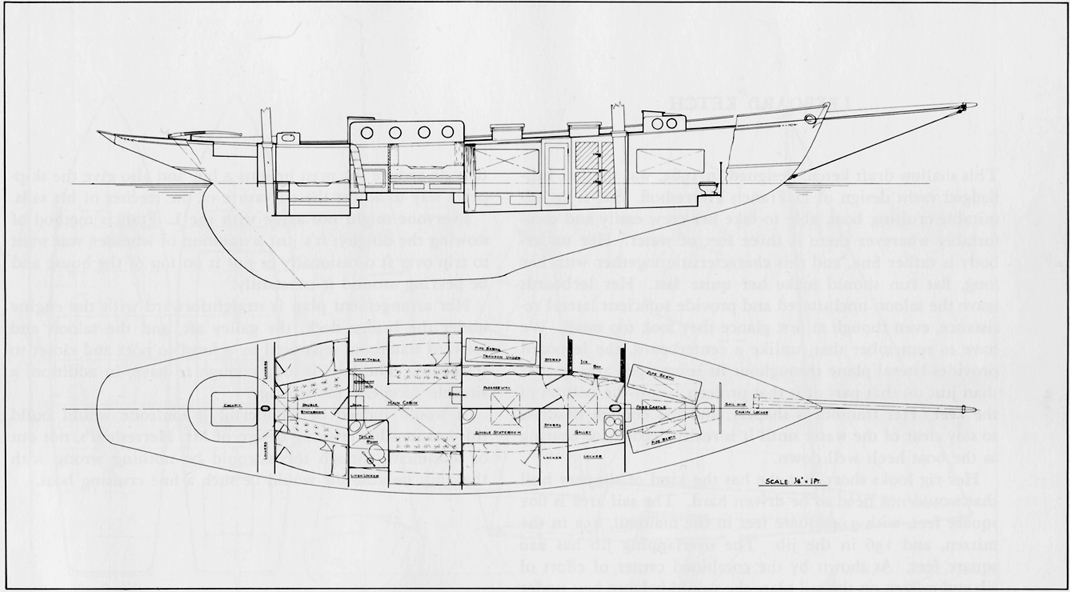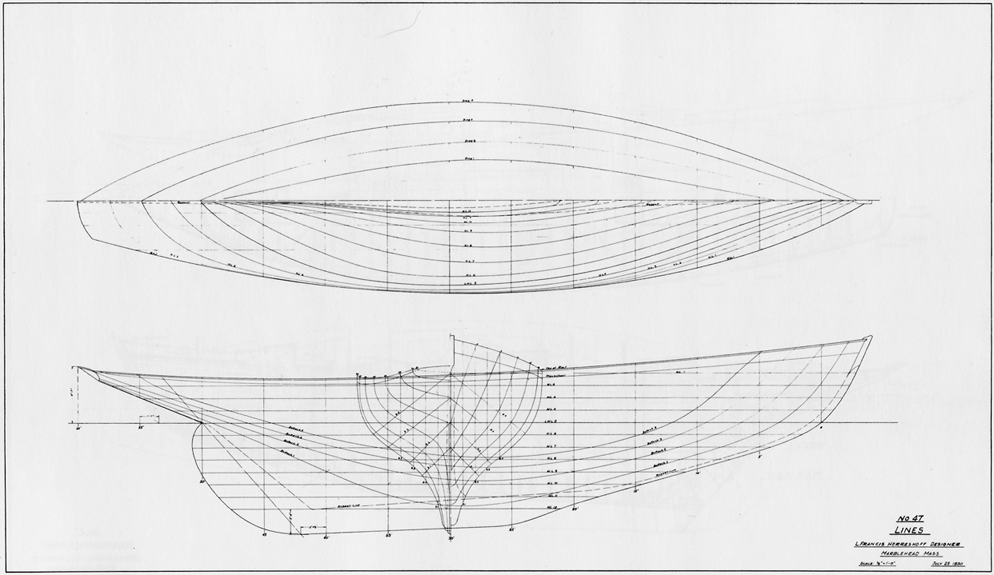 Note the tiller steering, no engine, no winches on the deck, and galley in the foc'sl for the paid crew to deal with. Otherwise the accommodation is simple and roomy, three good sleeping cabins plus the deckhouse, and the head is next to the companionway were people can get to it without struggling through the entire boat.
#47 has her main mast forward of station 3 and her mizzen almost at station 9. This sail plan shows considerable emphasis on the main sail and huge mizzen, with less expected from her headsailsails though several light air sails are dotted in. Part of this could have been the headstay sag problems (lack of rig stiffness) of the time. To an eye used to the modern sailplans these spars appear spindly, though of built-up hollow wood construction with ss fittings they were rather heavy.
Now compare #47 with the 1971 Sparkman and Stephens designed Swan 65.
Swan 65 Particulars
LOA = 64'11"
LWL = 47'0″
Beam = 16'4″
Draft = 9'4″
Displacement = 56,371 pounds
Ballast = 25,000 pounds
Working Sail Area (100% for triangle) = 1797 sq ft.
Main sail = 619 sq ft.
Mizzen = 272 sq ft.
Fore Triangle = 906 sq ft.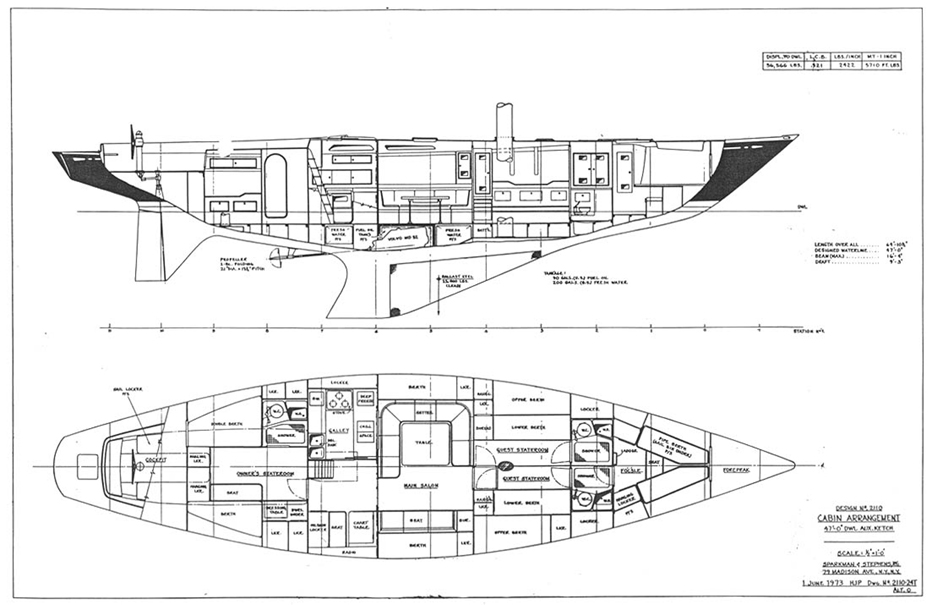 Here we see the main mast has moved aft almost to station 4 while the mizzen is still close to station 9. But with a fixed backstay the mizzen sail becomes a tall ribbon while huge emphasis is put on a wide selection of headsails. There are several genoas of over 1000 sq ft. and a mizzen stay'sl over 700 sq ft. And about 20 winches scattered about the deck to handle all these sails. What strikes me looking at the Swan 65 drawing is how pinched her stern looks, perhaps a function of the IOR rule. At BKYD the general rule of thumb for transom width was one-half max beam, in this case the transom appears to be about 1/3rd the max beam. She's still a nice looking boat.
External Links

Sorry, no links have been posted