Moonraker Cruising BC
Above: Moonraker with the stove going, anchored next to Tzu Hang at Musgrave Landing, BC, in the winter of 1953-54.
In August of 1953 Moonraker of Fowey sailed quietly into Victoria and tied at Fisherman's wharf. Moonraker was small, 29′ overall with a beam of 9'8″ and draft of 6′. She was built as a Cornish fishing boat before the turn of the century by Ferris of Looe, and converted to an ocean cruiser in 1932 by Dr. Peter and Margret Pye. Their first cruise in Moonraker was trans-Atlantic and return to home in England. In 1952 they left England and in early February of 1953 passed through the Panama canal. They went west visiting the Galapagos, Marquesas, Tahiti, and Bora Bora before turning north to Honolulu and Victoria.
After wintering with the Smeetons and Tzu Hang at Musgrave Landing on Saltspring, in May of 1954 they sailed north up the inside passage. With only a tiny auxiliary engine (cruising speed under power 2.5 knots) they spent two weeks beating against the daily Northwesterlys to arrive at Port Hardy. With no electrical equipment aboard navigation was all by eyeball, compass, and log…..In Peter's words, "The fun of it was we'd hardly ever finish finish the day as we'd planned it." In the 1950's nobody sailed these waters for pleasure. North of Port Hardy they met fishermen and natives, who always provided local knowledge on the next best anchorage. After crossing Queen Charlotte Sound they wound their way among the islands, stopping at Rivers Inlet, Spider Anchorage, and Saint John's Harbour. From Camano Sound they crossed Hecate Strait to Selwyn Inlet, and stoped at Skedans village before sailing into Queen Charlotte City.
A month after leaving Saltspring Moonraker sailed out of Queen Charlotte City bound nonstop to Ketchikan. That afternoon they met a 50 knot "summer" gale, and spent the night running under bare poles and streaming warps. But these gales are short-lived and the next evening saw them alongside a float in Ketchikan. Summer was passing so they turned south, stopping at Prince Rupert, "Oh how it rained", and then out Venn Channel and west across the Hecate again to Langara Island. On this passage they crossed paths with the only other yacht they saw that summer, a schooner powering north towards Alaska. From Langara they ran south, stopping at Port Louis and entering Tasu Sound. From Tasu they were 9 days sailing southeast 470 miles to Victoria. While they hoped to stop at Nootka Sound, they were hove to in half a gale as well as becalmed for 14 hours off Cape Cook, then becalmed again for 12 hours further south. Meeting another south-east gale in the mouth of Juan De Fuca and being swept by a wave put a proper ending on the summer's cruise.
Peter wrote in Yachting World, "So ended what has been the most strenuous cruising we have ever known. It is curious that the harder the sail the better it is to remember and, at the moment, surrounded by gracious houses and lovely gardens and yachts with coloured sails, we are filled with nostalgia for Queen Charlotte City and the grimness of that west coast. We shall never be quite content again."
Later that fall Moonraker sailed south again for Panama and home to England via the West Indies.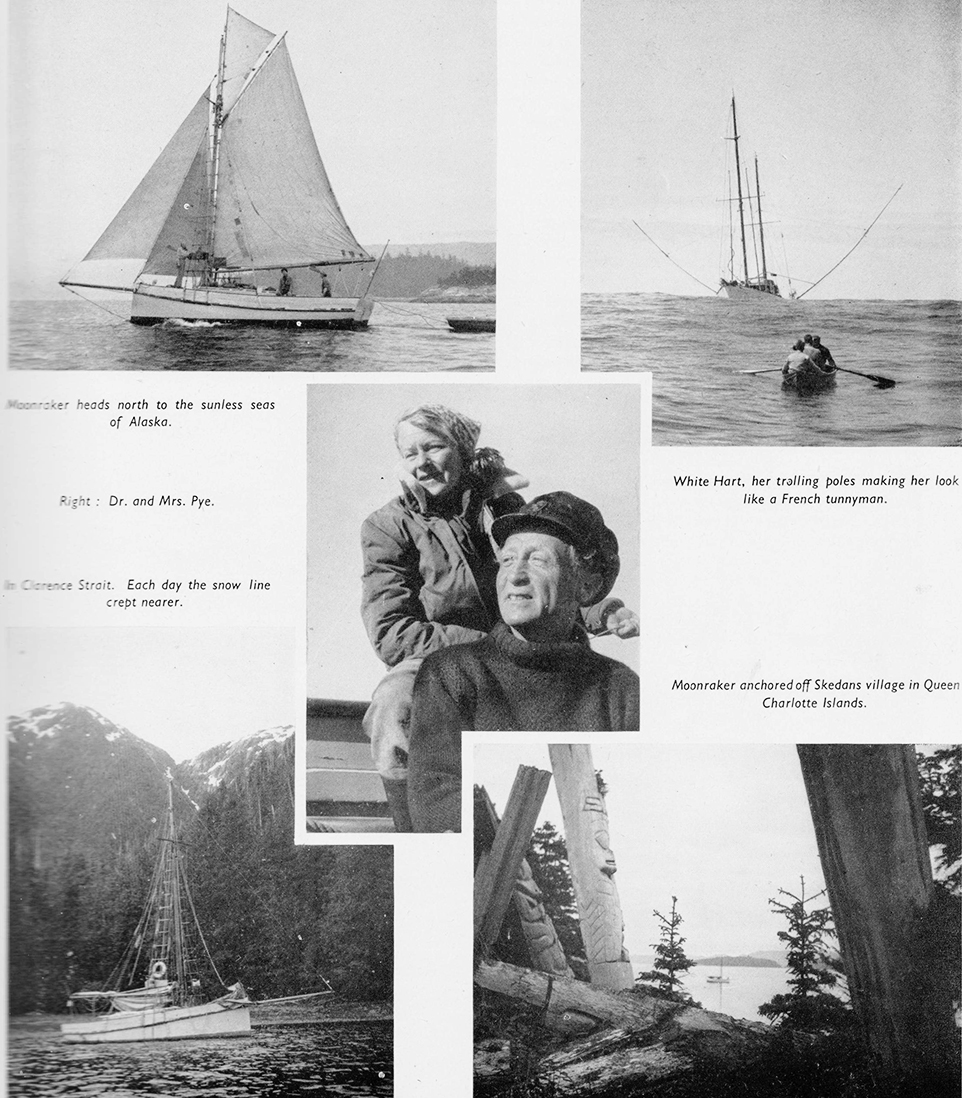 External Links

Sorry, no links have been posted