George Bruigom, Boatbuilder
George Bruigom built boats in Comox from about 1970 to 1985. Senang Hati, the 45 footer above, is rumored to have been his last boat.
I didn't know George but I did stop by his shed a few times. George was a busy guy, I remember at least once going by and finding three boats under construction in the big shed. He worked alone most of the time. He would not stop to talk, just a wave and "Go look around." It was a noisy, windy place, right on top of the hill next to the Air Force Base.
George apprenticed with Tom Taylor in Vancouver, from 1964 to 68, then moved to Comox to start his own shop. He cranked out a bunch of boats, some good sized. He liked to just build the hull, deck, and perhaps the house, then let owner's play about with the time consuming systems, interior, and rigging. For George it was all straight ahead boatbuilding, with no time for fussy detail.
Auriga II of Victoria, built 1964, 3.8 tons gross
Stormhaven Fishboat, built 1972, 5 tons gross
Daemon Herreshoff Marco Polo (modified to 12′ beam) Built 1971, 23.23 tons gross
Another Marco Polo, not sure of the year
Meriah Herreshoff Mobjack (45′) ketch, built 1969, 18.46 tons gross
Candlewin Another Mobjack launched 1976
La Picaresca Atkin Clione (35′) 1982, Fir on oak frames
Rhiannon another Clione, launched ?
Grischuna another Atkin I think, launched 1981, 10.4 tons gross
John Muir 64′ clipper bow schooner, launched 1976, 39 tons gross
Beowulf (?) 62′ fishing schooner
Sage (1977) 32′ Harrison Butler design, sailed by my cousin to Nova Scotia and Alaska, I sailed her in Maine.
Senang Hati Launched 1985, 15.93 tons gross, Red Cedar planking on White Oak frames
Kloshie Bay Launched 1986, 32′ by 12′ with 5′ draft, double-ended heavy power cruiser
There are others…….
Below we see the standard Bruigom construction setup. Some would call this "backwards" boatbuilding but I imagine George figured it saved time. The ballast and backbone were set up right side up with the molds erected on top and well braced to the roof of the shop. Over the molds were run the clamp, bilge stringers, and some ribbons. Then the ribs were bent over the set-up instead of inside (east-coast style) and planking could proceed.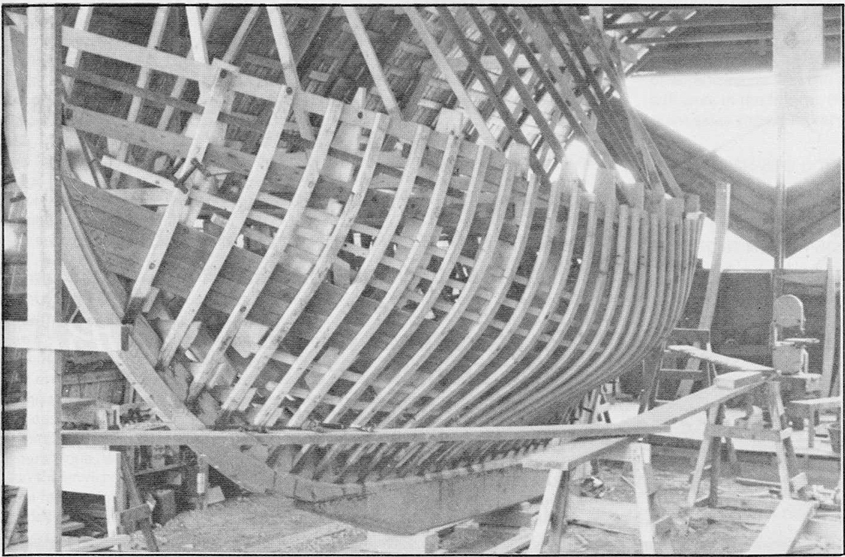 External Links

Sorry, no links have been posted