A DECEMBER TOW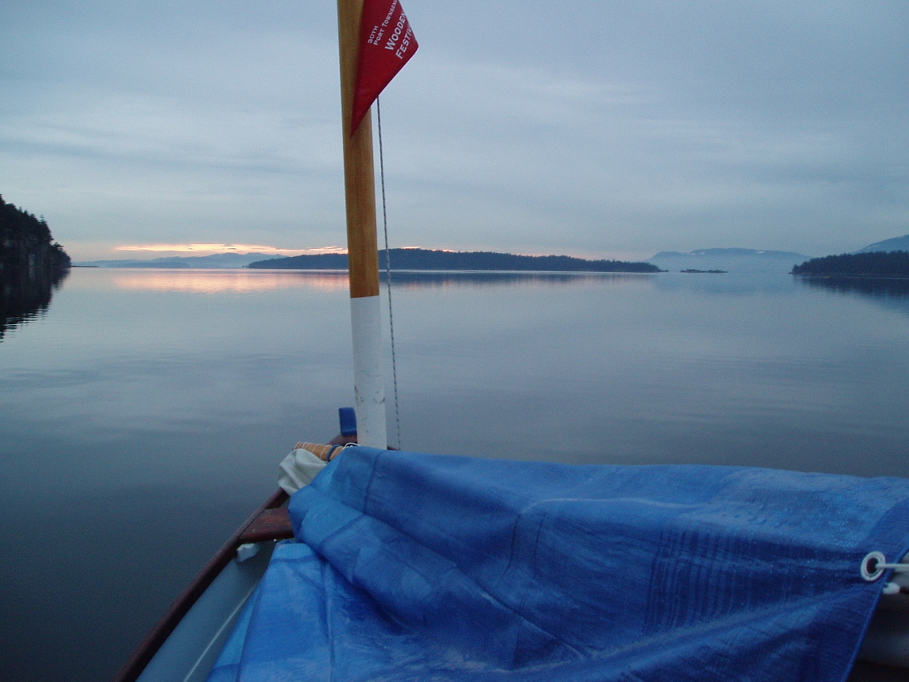 December Tow.
I think of it as a tow, but it wasn't all towing, we got the old MD2B to run for a few hours and even sailed a bit.
It's not far, Cadboro Bay to Silva Bay, about 45 miles as the crow flies. But it was December in BC, the tow was a semi-derelict 32′ Sea Spirit ketch, and our towboat had only 5 HP. December is the month when deep lows sweep rapidly down from the Bering Sea and march single-file across the coast. Each low occasions one or two hard wind shifts, from NW to SE and back, sometimes only 12 hours apart. Environment Canada updates the forecast every 5 hours, but they can't keep up.
Our towboat was Ratty, my open 20′ plywood centreboard ketch with 5 HP four-stroke outboard in a well. Maximum speed under power is possibly 5.5 knots. Equipment included a lean-to tarp for shelter, a propane camp stove and handheld GPS but crucially no VHF radio or cell-phone. I thought it might take 3-4 days to run Ratty down to Cadboro Bay, pick up the ketch, and get back home…..I was wrong about that.
We left Silva Bay at daylight headed south through Gabriola Pass and out into glassy calm Pylades Channel. We made good time riding the ebb south, but the calm did not last and a rising SE wind on the nose kicked up a short and steep chop that slowed us down. Early afternoon found us hugging the eastern shoreline of Saltspring, once through Captain Pass the wind hit us hard getting out towards Beaver Point. A northbound gillnetter passed and waved us back from the point, he was right, I circled back up the beach to a tiny cove where we tied to a tree.
A couple of hours later it was starting to get dark and I didn't really want to spend the night in that open cove. Thinking the wind had eased a bit we got underway again, the sea in Swanson Channel was still huge but we hunched down low in the boat and rode it out. My favourite coffee mug was washed overboard in our first major equipment loss. Hugging the north side of Portland Island we worked our way down into the shelter of Colburne Pass and reached jamb-packed Tsehum Harbour to anchor in the dark. It's pretty easy to find a spot to anchor when you only draw 14" of water.
It was a restless frosty night under the tarp, I woke up for every gust of wind, but at least it did not rain. We were underway again in the dark next morning for the last 18 miles to Cadboro Bay.
The ketch was tied to a mooring in the open bay, totally exposed to the SE. Perplexingly the anchor was also down. The owner appeared to hand over the vessel and give us a few pointers on the situation. The engine was started to grins all around. Since gales from the SE turn this bay into a lee shore, the 45 lb CQR had been dropped as extra insurance, right on top of the mooring. And it had been dropped some time ago so the two were almost irrevocably tangled. We set to work retrieving the anchor and chain, but gave up well after dark in a rising SE wind with building sea.
Day 3 dawned in a hard SE gale, gusting 40+ knots and 3-4′ sea with the wreck-littered beach 50 yards off our transom. Ratty tied alongside jerked and bucked like a wild thing and I gave thanks the anchor remained down. It blew all day, we had no heat and just huddled in our sleeping bags with all our clothes on. Late in the afternoon it switched to NW which we were completely sheltered from, the boat swung around and we pulled up the anchor. Next morning was quiet, with people walking dogs on the beach and normal land-bound life appearing. We needed some supplies, there was still a bit of swell breaking on the beach, we couldn't leave Ratty and there was no dock available to us. So I dropped James ashore to walk to a store and gas station, while I watched over the boats. Eventually he reappeared with a big jug of fresh diesel, I made a quick call home, we cut loose from the mooring and started towing out of the bay. By the time we got clear away the SE was rising again and our tow strategy lacked any coordination. As we had almost no speed windage was everything, the tow took charge and we were soon back tied to the mooring in Cadboro Bay.
Day 5 started off with a gentle SE and occasional sun breaking through the overcast. After rigging some far superior bridles and with clear instructions to James about steering at my transom, we were away. Getting around the corner and finally pointed north filled us with optimism, soon we got the engine going, mainsail up, and Ratty towing astern instead of doing the towing. Bucking a big tide our speed was abysmal, and it was a long cold day in the cockpit as an exhaust leak made the cabin uninhabitable while the engine was running. But we were making miles north. Up around Portland Island it got black dark, and of course we had little in the way of lights with no working electrical system on the boat. I thought I could get us into the north-side anchorage on Portland Island using the GPS, but it was too dark to see where we were. So we kept going and followed the lights into Montague on Galiano. We anchored in the south end in flat calm.
Overnight the NW came up and at daylight we were once again yards from a lee shore in icy cold blasts of 50 knots, but almost no sea which was a blessing. We went in to the marina dock in Ratty but everything was closed and there wasn't a soul about. After lunch the wind shifted to the west and kept on, but we thought some progress would be better than nothing and so got the engine going and anchor up. We crossed Trincomali Channel to the Saltspring shore and worked our way up the beach, right at dark we entered Conover Cove on Wallace Island and tied to the dock. It was still blowing really hard and we were soaking wet, but safe for the night. Two hours later the Coast Guard boat out of Ganges showed up, looking for us as unreported. They requested I phone home using their sat-phone, which I did. A few relieved chuckles later they were away and we retired to our wet beds.
Day 6 found us with a dead battery, no starting crank for the Volvo, and a north wind with snow. Back in towing mode the uphill slog continued, progress was very slow. I bet the Seaspan guys with chippers in tow were surprised when our ragged outfit appeared out of a snow squall at Porlier Pass. All afternoon we chugged up the Valdes shore, reaching Gabriola Pass just before dark and very cold. But the current was against us and we were rapidly drifting south when I latched on to a log boom tied to the beach. The tide eased well after dark and we worked our way up into the pass with almost no headway against the current. But at the neck, the narrowest section before the eastern exit, we were blown back by a SE wind. I circled around in the dark and pulled us into Degnen Bay were we anchored in pouring rain. After a run ashore to phone home I laid down only to be woken in an hour with a 50 knot north wind threatening to blow us onto the sheer shore of Josef Pt. Somehow I managed to get a line onto a mooring buoy off our bow and the stress level dropped a lot.
The final day dawned clear and calm, we awaited slack tide, and slowly towed through Gabriola Pass, around the corner, and into Silva Bay. It was a week until Christmas 2004.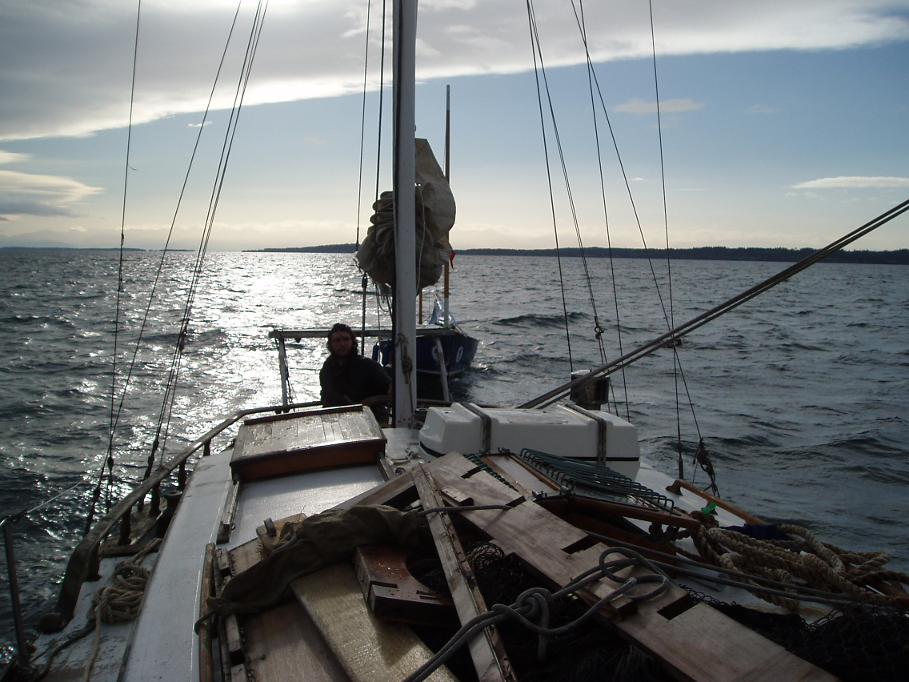 External Links

Sorry, no links have been posted